Skip Global navigation and goto content
Left navigation requires javascript to be enabled in your browser.
Services
Educational sessions:
Our department offers behavioral interventions to the general population or tailored specifically for men or women.
Testing:
The "Take Control" initiative provides free HIV Rapid Testing in non-clinical settings. The goal is to encourage individuals to know their HIV status and seek treatment and care, if needed.

Our Test Miami Mobile Unit serves the Miami-Dade County community by providing free preventative education and testing such as HIV testing and Chlamydia, Gonorrhea, & Syphilis Screenings.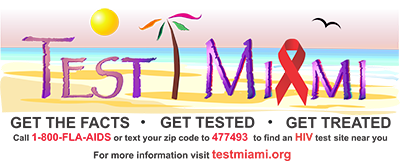 PrEP/PEP:
The (Pre-Exposure Prophylaxis) is a comprehensive HIV prevention strategy that involves the daily use of antiretroviral medications to reduce the risk of HIV infection in HIV-negative individuals. In July 2012, the US Food and Drug Administration approved the use of Truvada (TDF/FTC) for use as PrEP in HIV prevention in sexually active HIV-negative individuals. PrEP is used in conjunction with other prevention methods to reduce the risk of infection. To learn more about PrEP click here.
Post Exposure Prophylaxis (PEP) involves taking antiretroviral medications as soon as possible after a potential exposure to HIV to reduce the likelihood of HIV infection. There are two types of PEP: 1) occupational PEP, or an exposure that happens in the workplace (such as a needle stick in a healthcare setting), and 2) non-occupational PEP (nPEP), or when someone is potentially exposed to HIV through sexual intercourse or injection drug use.
To be effective, PEP must begin with 72 hours of exposure and consists of 2-3 antiretroviral medications that must be taken for 28 days. A physician must determine what treatment is appropriate based on the nature of the exposure. Starting PEP after a potential exposure does not guarantee that someone exposed to HIV will not become infected. To learn more about PEP click here.
For a list of PrEP or PEP Providers in Miami-Dade County, click here.
For more information on how to get PrEP, click here.
Linkage to Care - Treatment is Prevention:
Individuals who test positive for HIV are assisted in accessing care and treatment for HIV infections. Visit our website for more information: www.testmiami.org 
Condom Distribution:
Residents of Miami-Dade County can request free condoms to be delivered to their home. Agencies can request to become enrolled in our Condom Distribution Program by disseminating condoms in their community.
To request our services or for more information, please visit: www.testmiami.orgor call 305-643-7420.