Skip Global navigation and goto content
Left navigation requires javascript to be enabled in your browser.
Infectious Disease Services
Ending the HIV Epidemic in Miami-Dade County
"Ending the HIV Epidemic: A Plan for America (EHE)" is a bold plan that aims to end the HIV epidemic in the United States by 2030. The new initiative seeks to reduce the number of new HIV infections by 75 percent within five years, and then by at least 90 percent within 10 years. Due to the high incidence of HIV, Miami-Dade County was chosen as one of the 57 jurisdictions to implement this initiative. To read more about Miami-Dade County's situational analysis, the EHE Jurisdictional Plan, and the strategies and activities that will be implemented in Miami-Dade, please click on the links below:
EHE HCSF FDOH Final Report 2020-12-18
EHE Infographic English-Spanish 2020-12-18
EHE Jurisdictional Report with disclaimer 2020-12-18
EHE Community Engagement Funding Opportunity: The Health Council of South Florida (HCSF) released the Ending the HIV Epidemic (EHE) Community Engagement Application to fund community partners. The purpose of this funding is to support activities related to our local EHE initiative. Funded agencies will implement projects in the Miami-Dade community that will support the comprehensive EHE plan developed by the DOH-Miami-Dade HIV/AIDS Program and informed by diverse stakeholders and community-level input. For further information, click below:
EHE Community Engagement announcement 2021-01-13
Budged Narrative Template 2021-01-13
Budget Template 2021-01-13
EHE Community Engagement PDF Application 2021-01-13
EHE Project Timeline Template 2021-01-13
EHE Strategies Activities 2021-01-13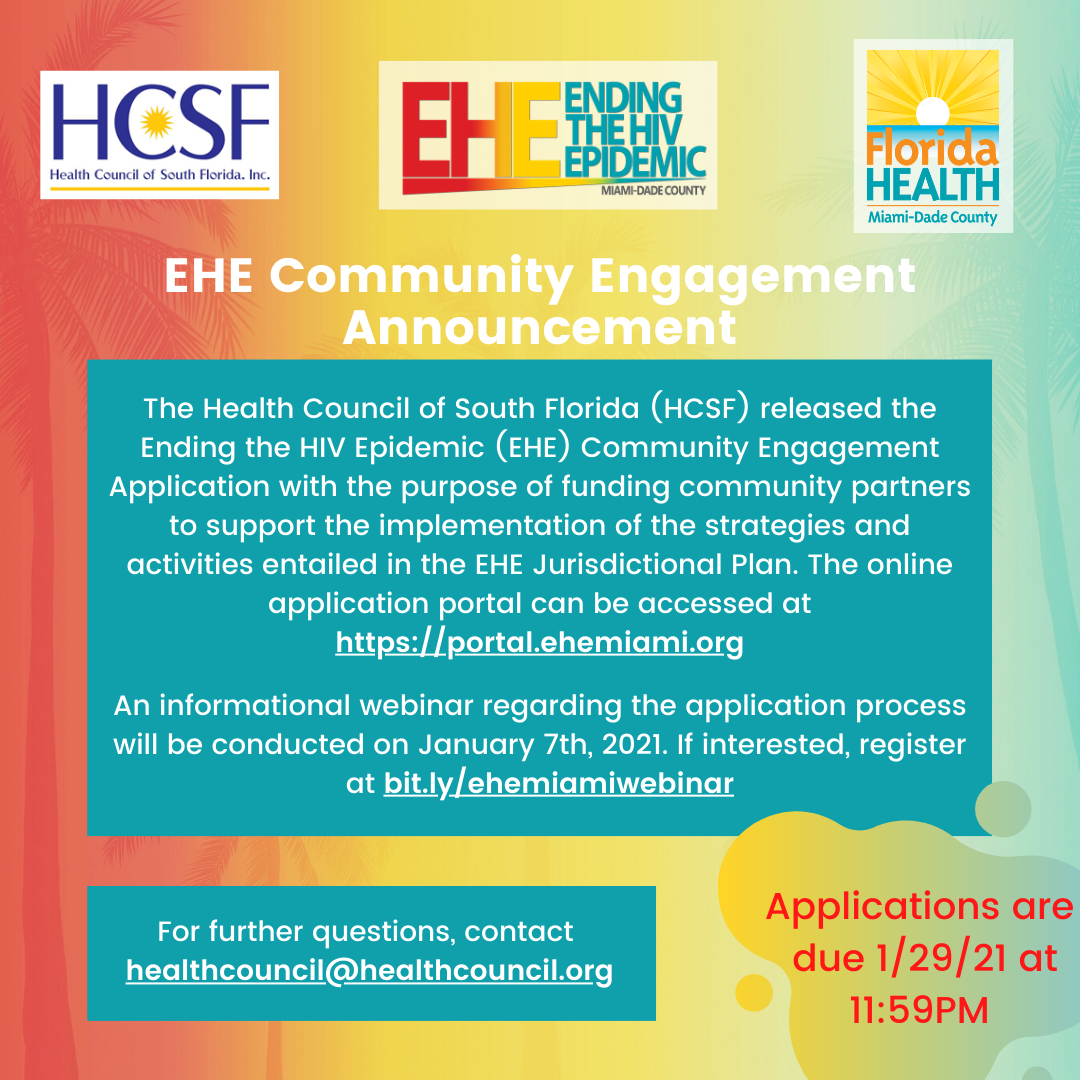 Infectious Diseases Services conducts investigation, surveillance, prevention, and control of communicable diseases. Services include:

Disease Control
Epidemiology Program conducts disease surveillance and investigates suspected occurrences of infectious diseases and conditions that are reported from physician's offices, hospitals, laboratories and other medical providers and community partners.

Sexually Transmitted Diseases Control and Prevention
The Sexually Transmitted Disease (STD) Program works to control transmission through:
Education of at risk persons and the means for reducing the risk of transmission by changing sexual behaviors
Detection of infection in persons without symptoms, and those who are who are unlikely to seek diagnostic and treatment services.
Diagnosis and treatment of persons who are infected.
Evaluation, treatment and counseling of sex partners of persons with a Sexually Transmitted Disease (STD).

HIV/AIDS Control and Prevention
The Florida Department of Health in Miami-Dade offers diverse services to control and prevent HIV/AIDS

Tuberculosis Control and Prevention
Our Clinical Services provide the diagnosis and treatment of persons with active TB disease and persons identified with latent TB infection. Treatment for persons identified with latent TB infection will be crucial to achieving the ultimate goal of eliminating TB as a public health problem in Florida.