skip to content
Services
Educational sessions:
Our department offers behavioral interventions to the general population or tailored specifically for men or women.
Testing:
The "Take Control" initiative provides free HIV Rapid Testing in non-clinical settings. The goal is to encourage individuals to know their HIV status and seek treatment and care, if needed.

Our Test Miami Mobile Unit serves the Miami-Dade County community by providing free preventative education and testing such as HIV testing and Chlamydia, Gonorrhea, & Syphilis Screenings.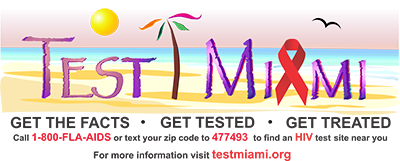 Linkage to Care - Treatment is Prevention:
Individuals who test positive for HIV are assisted in accessing care and treatment for HIV infections. Visit our website for more information: www.testmiami.org
Condom Distribution:
Residents of Miami-Dade County can request free condoms to be delivered to their home.
Agencies can request to become enrolled in our Condom Distribution Program by disseminating condoms in their community.
To request our services or for more information, please visit:www.testmiami.orgor call 305-643-7420.