skip to content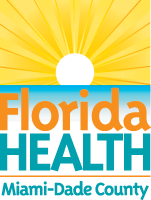 It's a New Day in Public Health.
The Florida Department of Health works to protect, promote & improve the health of all people in Florida through integrated state, county, & community efforts.
skip to content
National HIV/AIDS Strategy
"Getting 2 Zero" Task Force
The Mayor of Miami-Dade County has a resolution with Florida Department of Health to create the Miami-Dade County HIV/AIDS "Getting 2 Zero" Task Force that is charged with developing a strategic action plan on addressing the HIV/AIDS epidemic in Miami-Dade County. The task force started its mission in September 2016 and is in the process of developing recommendations that target prevention and research, care and treatment, social support services, and systems and policies. The task force is comprised of over 25 members that represent different entities, including hospitals, universities, government, substance abuse community, and leading health insurance plans, that have provided their resources and are committed to reducing new infections and increasing access to care. 
Miami-Dade County HIV/AIDS Getting to Zero Task Force

National HIV/AIDS Strategy (NHAS)
One of President Barack Obama's top HIV/AIDS policy priorities is the development and implementation of a National HIV/AIDS Strategy (NHAS). There are three primary goals:
Reducing the number of people who become infected with HIV
Increasing access to care and optimizing health outcomes for people living with HIV
Reducing HIV-related health disparities
To accomplish these goals, a more coordinated national response must be taken to the address the HIV epidemic. Success will require the commitment of all levels of governments, businesses, faith communities, philanthropy, the scientific and medical communities, educational institutions, people living with HIV and others.

Vision for the National HIV/AIDS Strategy:
"The United States will become a place where new HIV infections are rare and when they do occur, every person, regardless of age, gender, race/ethnicity, sexual orientation, gender identity or socio-economic circumstance, will have unfettered access to high quality, life-extending care, free from stigma and discrimination".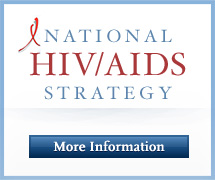 HIV Care Continuum

The HIV Care Continuum is a model that is used by federal, state and local agencies to identify issues and opportunities related to improving the delivery of services to people living with HIV across the entire continuum of care. This continuum has five main "steps" or stages:
HIV Diagnosis: The HIV care continuum begins with a diagnosis of HIV infection. The only way to know for sure that you are infected with the HIV virus is to get an HIV test. People who don't know they are infected are not accessing the care and treatment they need to stay healthy. They can also unknowingly pass the virus on to others.
Getting linked to care: Once you know you are infected with the HIV virus, it is important to be connected to an HIV healthcare provider who can offer you treatment and counseling to help you stay as healthy as possible and prevent passing HIV on to others.
Staying in care: Because there is no cure for HIV at this time, treatment is a lifelong process. To stay healthy, you need to receive regular HIV medical care.
Getting antiretroviral therapy: Antiretrovirals are drugs that are used to prevent a retrovirus, such as HIV, from making more copies of itself. Antiretroviral therapy (ART) is the recommended treatment for HIV infection. It involves uses using a combination of three or more antiretroviral drugs from at least two different HIV drug classes every day to control the virus.
Achieving a low amount of HIV virus in your body: By taking ART regularly, you can achieve viral suppression, meaning a very low level of HIV in your blood. You are not cured. There is still some HIV in your body, however, lowering the amount of virus in your body with medicines can keep you healthy, help you live longer, and greatly reduce your chances of passing HIV on to others. For more information, please visit http://aids.gov/federal-resources/policies/care-continuum/