skip to content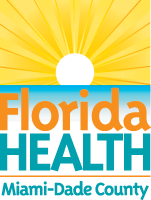 It's a New Day in Public Health.
The Florida Department of Health works to protect, promote & improve the health of all people in Florida through integrated state, county, & community efforts.
skip to content
Disease Control
Epidemiology, Disease Control and
Immunization Services

The primary function of Epidemiology, Disease Control and Immunization Services is to protect and promote the health of Miami-Dade County residents and visitors. This is accomplished through the operation of public health surveillance, field investigations, health assessments, emergency preparedness activities and epidemiologic studies. Information from these activities is provided in a timely fashion to partners within the Miami-Dade County Health Department (MDCHD), other agencies, researchers and the public. This information is used to identify residents and visitors at increased health risk, to assess causality and to recommend preventive measures to decrease the burden of disease and injury.


Goals
• Conduct surveillance activities to ensure a timely and focused response to natural and man-made public health issues and emergencies
• Provide technical support to health care providers in the management of diseases of public health importance
• Collect, analyze and disseminate public health data of interest to Miami-Dade County
• Strengthen MDCHD public health capacity through research, consultation and training

The staff members are engaged in a wide array of activities, including but not limited to:
• Surveillance and reporting of communicable diseases and conditions
• Field investigation of case and outbreak situations
• Analysis and distribution of public health data via publications, presentation and reports
• Bioterrorism preparedness and response activities
• Hepatitis A, B and C testing, counseling and education
• Lead poisoning prevention services, such as screening, surveillance, case management, and home environmental inspection
• Community outreach and health education activities
The Epidemiology, Disease Control and Immunizations Program consists of the following units:
Administrative Support                                                                  
Applied Epidemiology and Research
Animal Bites
Bioterrorism
Childhood Lead Poisoning and Prevention
General Surveillance
Hepatitis
Immunizations
       Important Phone Numbers   
         Epidemiology, Disease Control and Immunization Services  305-470-5660
      
       Hepatitis Program
       305-470-5536
      
       Healthy Homes and Lead Poisoning Prevention
       305-470-6877
      
       HIV/AIDS Program
       305-470-6999
      
       Sexually Transmitted Diseases, Control and Prevention
       305-575-5423
      
       Tuberculosis Prevention, Screening and Treatment
       305-575-5401
      
       Immunizations (appointments)
       786-845-0550
      
       Department of Health Pharmacy (Peñalver Clinic)
       305-545-5180 ext. 103
Contact Information for Epidemiology, Disease Control and Immunization Services:
Address: 8600 NW 17th Street, Suite 200
                  Miami, Florida 33126
 Phone:  305-470-5660

 Fax (Confidential):305-470-5533
Office hours:
8:00 am – 5:00 pm Monday through Friday
An after hours on-call system is available 24/7.