skip to content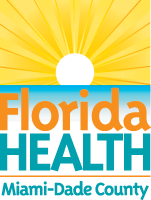 It's a New Day in Public Health.
The Florida Department of Health works to protect, promote & improve the health of all people in Florida through integrated state, county, & community efforts.
skip to content
Immunizations
Immunizations Appointments and Inquiries
New Immunization Guidelines for Florida Schools, Childcare Facilities and Family Daycare Homes
Immunization Services of the Florida Department of Health in Miami-Dade was established in 1963 as the local representative of the State of Florida Department of Health's Bureau of Immunization (BOI). The program upholds the health department's mission to "To protect, promote & improve the health of all people in Florida through integrated state, county & community efforts" by providing immunization services to protect residents and visitors from vaccine preventable diseases.


Goals:
Control/eliminate vaccine preventable diseases for residents and visitors
Provide barrier-free immunizations and education for infants, children and adults
Provide education to parents or guardians on the importance of vaccines
Educate and monitor private and public sectors and provide consultative screenings of immunization records along with vaccine handling and storage techniques
Provide ongoing surveillance of vaccine preventable diseases
We offer vaccines that protect against the following vaccine preventable diseases:
1.   Diphtheria
2.   Haemophilus Influenza Type B
3.   Hepatitis A and B
4.   Herpes Zoster (Shingles)
5.   Human Papillomavirus (HPV)
6.   Influenza (Flu)
7.   Japanese Encephalitis
8.   Measles
9.   Meningitis
10.  Mumps
11.  Pertussis
12.  Pneumonia
13.  Polio
14.  Rubella
15.  Tetanus
16.  Typhoid Fever
17.  Varicella (Chickenpox)
18.  Yellow Fever
19. Rabies (for lab personnel and travelers)
For more information about specific vaccines: https://www.cdc.gov/vaccines/hcp/vis/current-vis.html

Our educational and clinical services for the community include:
Free vaccines for all children (0 - 18 years) excluding travel vaccines
Florida Department of Health in Miami-Dade provides free vaccines to all children that visit our clinics because of the Vaccines for Children (VFC) Program, a public/private partnership that is federally financed while administered by the State of Florida.  Since 1994, VFC has distributed over $100 million in vaccines to Florida private physicians, hospitals and other public and private healthcare providers in order to reduce cost as a barrier to vaccinating children on time. VFC also evaluates the safety of vaccines and monitors compliance within the program's guidelines. The Florida Department of Health in Miami-Dade ensures that every child is given vaccines regardless of financial status. 
For additional information on importance of vaccinating your child: https://www.cdc.gov/vaccines/vac-gen/howvpd.htm#why

Travel Vaccines
The Florida Department of Health in Miami-Dade offers travel vaccines for children and adults at our Health District Center Clinic. Travel vaccines are a safe and effective way to protect travelers when visiting countries that have higher risk of becoming ill from certain diseases.  Visit the CDC travel destination website to review whether the countries you are traveling to have vaccine recommendations to keep you safe at https://wwwnc.cdc.gov/travel/destinations/list .
To receive a cost estimate of travel vaccines call 786-845-0550 and schedule an appointment.  
Adult Vaccines 
Our immunization program also offers adult vaccines for your health and to fulfill employment, college/university and immigration requirements. Call our appointment line at 786-845-0550 for pricing and to schedule an appointment. 

Immunization record request: We receive many inquiries from the public requesting their vaccine records. The health department only has access to vaccine records that have been entered into the Florida Shots database by private physicians, pharmacies or the Florida Department of Health. If you want us to check if your record is in Florida Shots please fill out the attached document and fax it back to us at 786-845-0598 with a copy of a valid state id or passport. If your record is in Florida Shots we will be able to fax it back to you.  

Vaccine safety
Monitoring adverse events and addressing vaccine safety concerns are important aspects of an immunization program. The Vaccine Adverse Event Reporting System (VAERS) is a national surveillance system operated jointly by the CDC and the Food and Drug Administration (FDA).  CDC and FDA want to make sure all vaccines are safe. If you have an adverse event after receiving a vaccination, please contact the Vaccine Adverse Reporting System (VAERS) at 1-800-822-7967. 

Quality Control
There are many quality control issues that are important for immunization.  Requirements necessary to ensure proper vaccine storage include appropriate refrigeration or freezing at specific temperatures.  When recommended temperatures are not maintained, vaccines may lose their potency and result in the recipients being inadequately immunized. Our staff performs on-site immunization reviews at provider sites to make sure that vaccines are stored properly.