Skip Global navigation and goto content
Ending-the-HIV-Epidemic-initiative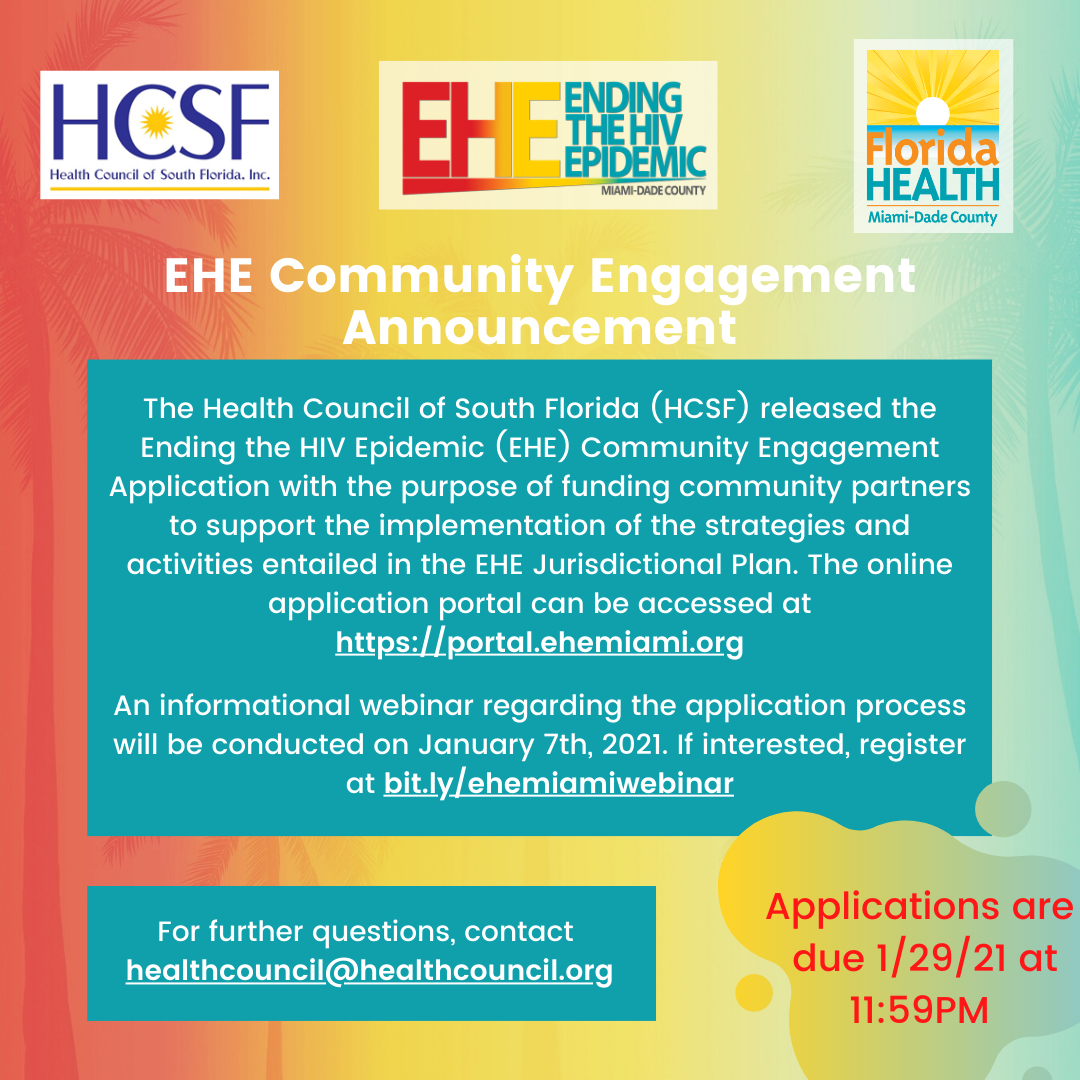 Dear Miami-Dade County Community Members, 
We are pleased to release the Ending the HIV Epidemic (EHE) Community Engagement Application to fund community partners. This process is being administered locally by the Health Council of South Florida (HCSF). The purpose of this funding is to support activities related to our local EHE initiative. Funded agencies will implement projects in the Miami-Dade community that will support the comprehensive EHE plan developed by the DOH-Miami-Dade HIV/AIDS Program and informed by diverse stakeholders and community-level input. 
Please refer to the following document for further details and instructions regarding this funding and application process:
 "EHE Community Engagement Announcement" 
The online application portal can be accessed at https://portal.ehemiami.org. Application documents are also below for your convenience. Interested applicants are encouraged to use the online application portal, but we will also accept completed PDF applications. 
Bellow are the  "EHE Application Files"
You can also find the EHE Miami-Dade Jurisdictional Plan and Report for download at this link. These documents, along with the attached Strategies/Activities document, are provided to help inform your application.
KEY DATES
The EHE Community Engagement Application will remain open until Friday, January 29th, 2021, at 11:59 PM.
The HCSF will host an informational webinar regarding the application process on Thursday, January 7th, 2021, from 10:30 AM – 12 PM.
Awarded applicants will be notified by Friday, February 12th, 2021, via email.
Activity start date for all projects shall be no later than Monday, March 1st, 2021, and all projects will end by Saturday, July 31st, 2021. 
Please note: contracts may be renewed on a yearly basis for no more than three years beyond the initial term, contingent upon satisfactory fiscal and programmatic performance and will be subject to the availability of funds. 
Interested parties can register for the informational webinar by clicking here.
The Florida Department of Health in Miami-Dade and the HCSF would like to take the opportunity to thank you for your commitment and support with Ending the HIV Epidemic efforts in the county. We encourage our community partners to apply for this funding and we look forward to your service in the community. 
If you have any questions, we encourage you to register for the informational webinar. You can also send an email to healthcouncil@healthcouncil.org with any questions regarding this funding and application process.