skip to content
Olga Connor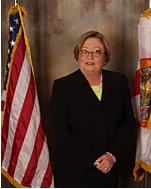 Olga Connor, BA
Director, Office of Communications & Legislative Affairs
Born in Cuba, Olga Connor emigrated to the United States in 1960. After graduating from Miami Senior High School, Ms. Connor attended Clarke College in Iowa where she received her Bachelor of Arts degree. The following year, she obtained a Certificate in Education from the University of Miami.

Presently, Ms. Connor is the Director of the Office of Communication and Legislative Affairs with the Miami-Dade County Health Department, a post she has held since 1997. Her responsibilities include supervising and managing all aspects of public information and legislative affairs such as health promotion, media relations, community affairs, partnership development, intergovernmental affairs and procurement of funds. She served dual roles for the health department from July 2004 to June 2005 when she was appointed Acting Deputy Administrator.

Ms. Connor began her career in the Department of Health and Rehabilitative Services (HRS) – now the Florida Department of Children and Families – in 1967 and held a number of positions including that of Deputy District Administrator and Aging and Adult Services Program Administrator.

Throughout her 43-year tenure with the State of Florida Government, Ms. Connor has been instrumental in developing and implementing health and human services programs throughout Miami-Dade County. Her constant vigilance over the welfare of the residents of the community has truly made a difference in their quality of life.

Ms. Connor has a long history of community service. She currently serves on the Department of Elder Affairs Advisory Council, the Florida Executive Council of AARP and the President's Council of Florida International University. She is a member of the Florida Department of Health's Public Health Block Grants Advisory Committee and the Health Council of South Florida Nominating Committee. She recently accepted membership to the Healthy Aging Regional Collaborative Leadership Council of the Health Foundation of South Florida, a collaborative which is creating an infrastructure for the adoption and sustainability of healthy aging programs, policies, and environments.

She has served on the board of the Alliance for Aging, Inc where she has held leadership positions including Board Chair. She was a founding member of the Alliance for Human Services and served as Board Vice-Chair. Ms. Connor served ten years on the Florida State Board of Clinical Social Work, Marriage and Family Therapy, and Mental Health Counseling and seven years on the Miami-Dade County Equal Opportunity Board. She has served on the boards of the League of Women's Voters, the Girls Scouts Council of South Florida, the Florida State Board of Optometry, Coalition of Hispanic American Women, the Private Industry Council, Miami-Dade Community College-South East Florida Literacy Center, Family Counseling Services,. She was a founding member and Board Secretary of the Human Services Coalition of Dade County and the Department of Elder Affairs Long-Term Care Advisory Council.

Ms. Connor has received numerous awards some of which include a certificate of merit from the Centers for Medicare and Medicaid Services for exemplary customer service, and the Alliance for Aging Elder Advocate award for her outstanding leadership in advocating on behalf of seniors in our community. She served on the Board of Trustees for her Alma Mater, Clarke College, which also recognized her work with a Humanitarian Service Award.

Ms. Connor attended the University of North Carolina Management Academy for Public Health, which is a ten-month executive education course customized for health managers in the public health system. Participating teams learn skills in managing people, money, data and partners. Ms. Connor is a fellow of the National Hispanic Leadership Institute and has received intensive leadership programs at Harvard University, John F. Kennedy School of Government and the Center for Creative Leadership. She is also a member of the Florida Public Health Association.