skip to content
Maribel Zayas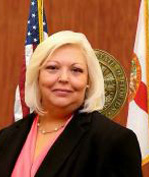 Maribel Zayas, B.P.A., J.D.
Chief Financial Officer
Maribel Zayas is the Chief Financial Officer of the Miami-Dade County Health Department and is the Director for the Drugs Aids Assistance (ADAP) Program. As a key leader in the organization, she plays a major role in the development, implementation, and reinforcement of organizational strategies, structures and processes for improving the performance and effectiveness of the agency.
For the past 26 years, she has served in various roles: Interim CHD Administrator for the Miami-Dade County Health Department, Contract's Administrator, and Accounting and Budget Financial Manager. Similarly, she has collaborated to secure the funding for the construction of a new "Center of Excellence" that replaced the older site of the original Health Department in Miami-Dade. Other projects that she has worked on include the implementation of the dental van "Seals of Wheels", that provides dental services to school children; the construction of the Little Haiti Health Center, to meet the needs of the Little Haiti community, and the Fast Track Clinic.
Ms. Zayas holds a Bachelor Degree in Public Administration from Florida International University and a Juris Doctor Degree from Nova Southeastern University. She also holds certificates in International Legal Studies from the University of the Pacific Mc George School of Law, a certificate for Revenue Forecasting and Analysis from Florida International University, and she is a graduate of the Leadership Management Academy for Public Health at the University of North Carolina at Chapel Hill. She is a member of American Public Health Association (APHA), National Association of County and City Health Officials (NACCHO), and Florida Business Managers Associations (FBMA).
She is also an adjunct professor of the Robert Stempel College of Public Health and Social Work at Florida International University, where she shares her passion for public health with graduate and undergraduate students highlighting the importance of public health as a public good, public health policy and law and key concepts and responsibilities assigned historically to public health agencies.