skip to content
Karen Weller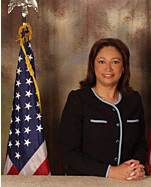 Karen Weller, RN, BSN, ICCE
Director, Office of Community Health and Planning

Ann-Karen Weller has worked with the Miami-Dade County Health Department since 1998. As the Director of the Office of Community Health and Planning, she oversees the following initiatives: chronic disease prevention, community health, worksite wellness, tobacco prevention and Healthy Start. This Office provides staffing for the Consortium for a Healthier Miami-Dade, which is an initiative of the Miami-Dade County Health Department. The Consortium, which was established in 2003, in response to the increasing rates of chronic diseases in the community, is guided by the goals and objectives established in Healthy People 2010, the national blueprint for health. Ms. Weller serves as the chair of the Executive Board. Ms Weller also represents the MDCHD on the Early Learning Coalition Board and the Sister-to-Sister Miami Community Council. She is a member of the Florida Nursing Association and the Florida Association of Public Health Nursing.

Ms. Weller, who graduated from Florida State University with a Bachelor of Science in Nursing, has been a Registered Nurse for over 20 years. During this time, Ms. Weller has provided education, care coordination and nursing assessment to prenatal women and infants through home visits. She has also worked with children who are medically ill requiring intense care in the home setting. She has held workshops for care coordinators in the area of Parenting and Childbirth education. Ms Weller is a certified childbirth educator, a certified infant massage instructor and a certified case manager.